I've recently become helplessly addicted to the VR game Beat Saber. For those not in the know, Beat Saber is essentially an amalgamation of Fruit Ninja with rhythm games like Dance Dance Revolution or Guitar Hero. If that sounds super-nerdy, that's likely because it kind of is. However, it's also a near-endless source of fun and entertainment, and one of the few things in my adult life that causes eyebrow raising concern for my heart rate, makes me sweat profusely and gasp for air, yet still ready to take on the next level.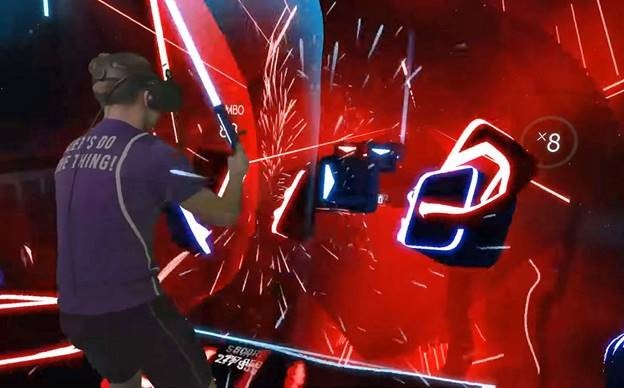 Having worked inside gaming environments for such a long period of time and recently immersing myself so heavily into Beat Saber naturally drove me to the question…
Does virtual reality have a place in gaming?
For brick-and-mortar casinos, my gut says, "No." An immense amount of planning and effort has gone into providing patrons with a pleasing and engaging atmosphere. Who wants to walk into a dynamically entertaining environment such as a casino just to immediately slap VR gadgetry on, effectively removing themselves from the ambiance?
The cost to the operator could be considered a bit unmanageable once all things are considered; e.g. marketing signage, hardware and software to run the actual VR content, etc. For patrons, hygiene is a huge concern and some people are known to become queasy inside of VR. Having a headset on your face also opens you up to theft. For these reasons I just don't foresee VR EGMs, be they skill-based or not, becoming popular on traditional slot floors anytime soon.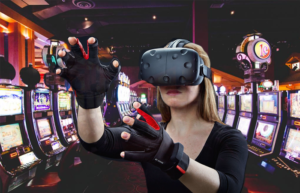 I do feel it necessary to play devil's advocate and consider a couple potential benefits of VR EGMs making their way to slot floors:
While attracting a patron to actually use a VR EGM may prove difficult and may require some reconsideration of the marketing budget; the sky is the limit in terms of engaging the active player once they're inside the virtual environment.
With the right software, a device like a $400 Oculus Quest could theoretically provide a player with a very engaging virtual slot reel sans limitations found with actual slot reels. Imagine a massive virtual landscape where the hills or mountains themselves represent the slot reel elements. Imagine playing blackjack on the moon, or baccarat on a luxurious yacht docked in Monte Carlo.
When I consider the possibilities introduced with VR, I realize why some online casinos have already started experimenting with this technology; primarily focused on tapping into the social engagement aspect for patrons that want to experience their surroundings while seated at a blackjack table or slot machine. Virtual reality can effectively bridge this gap for online casino operators, perhaps by leveraging the amount of R&D effort that has been placed into making player avatars as expressive as possible in VR.
All of that being said, I still think there is nothing like sitting at a real blackjack table and talking to real people (or flashing stink-eye to those making bad calls) while I wait for my real drink from a real cocktail waitress.